Need Tune-Up, Maintenance, Car Care?
We will perform the work in a timely, economical matter and most repairs, including maintenance, are done on the same day with an appointment. Whoever coined the phrase "an ounce of prevention is worth a pound of cure" was absolutely right. Every year it gets harder and harder for the consumer to perform even simplest maintenance on their vehicles. Some late model vehicles don't even have a dipstick to check the oil. What happens then is out of sight, out of mind. We can tend to push our cars or trucks to the very limits and then wait until something bad happens.
The good news is with a little preventive maintenance, a lot of these costly repairs can be avoided. At Interparts Auto we have all the latest updates and maintenance schedules for almost any car or truck on the road today. Let us go through a comprehensive checklist to see what services you may be needing now and help you schedule the ones upcoming. We will explain how and why the services are important and why they should be done on time.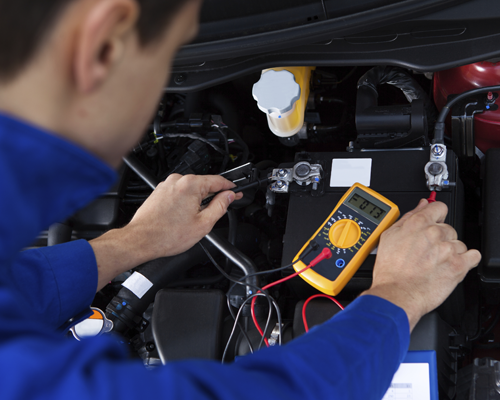 We also offer an extensive line of BG and Amsol chemicals to service any needs your vehicle may have. Most modern day vehicles do not need much service until around 90,000 miles. However, every vehicle should have a thorough inspection and timely maintenance done at least about every 30,000 miles. Depending on personal driving conditions this is about every 2 years. At Interparts, we can inspect your vehicle from bumper to bumper to ensure your car's safety and reliability. If you are going down the street or across the country, you can rest assured your vehicle will make it there safely.
Car care and maintenance includes the following: Coolant Flushes, Transmission Flushes, Engine Flushes, Power Steering Flushes, Injector Flushes and Fuel System Flushes.

Tune-ups include replacing spark plugs, coils, ignition wires, distributor cap and rotor, complete brake work, serpentine belts and filter exchanges.

Please call (918) 834-1800 to schedule an appointment. One of our professional technicians will inspect and take care of any maintenance issues that may arise. We will perform the work in a timely and economical matter. Most of our repairs including maintenance are done the same day with an appointment.
We also provide service for your air conditioner, brakes, heater, electrical system, engine, suspension and undercarriage, and transmission for any vehicle make, model, or year, as long as parts are available.