Does Your Car's Engine Need Service?
Car problems, especially engine damage, are never fun to deal with.

Sometimes, a complete rebuild or overhaul of your engine can exceed the total value of your vehicle. The good news is that most common engine problems can be prevented with a little care and maintenance. Odds are, if you have owned your vehicle for quite awhile, you should be familiar with the sound and noises of your engine. The temperature gauge should stay in the middle of the gauge and the oil pressure should remain constant at cruising speeds. Any slight changes in these factors may indicate an issue that needs to be addressed. Please don't ignore these clues. They can save you thousands of dollars on expensive engine repairs.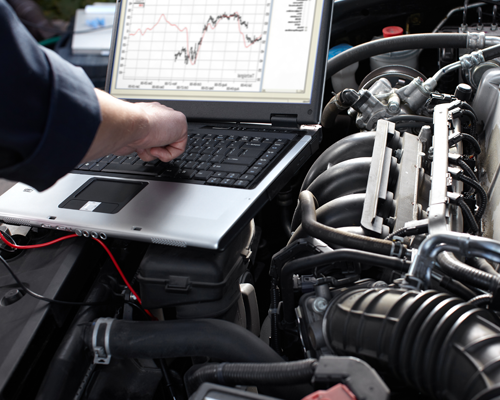 If you need minor or major engine rebuilding or repair, from minor oil leaks to major engine overhauls, Interparts can service all car makes and models. We will give you all the choices that fit within your budget. We will give you all the choices that fit within your budget. In most instances, Interparts will have options ranging from rebuilding or replacing with recycled parts, or installing a completely new engine. Everything Interparts installs and sells will come with a no-nonsense, 6 month to 3 year, unlimited mileage replacement warranty. If you are need of quick services, we offer same-day minor repairs to get you back on the road today.
Here are some helpful tips and advice about taking care of your engine:
Check for leaks or abnormal smells
Know the sounds and harmonics of your motor
Watch for temperature gauge fluctuations
Change your oil on time using a top quality filter and the correct weight of oil
Pay attention to your maintenance schedule and do things on time. Most tune-ups are due every 80,000 – 100,000 miles, not when the car is running poorly.
Know if your vehicle's engine uses a replaceable timing belt or timing chain. If your car uses a timing belt, know the maintenance. If this belt breaks, catastrophic damage is likely to occur.
We also provide service for your tune-ups, air conditioner, brakes, heater, electrical system, suspension and transmission for any vehicle make, model, or year, as long as parts are available. Please call (918) 834-1800 to schedule an appointment or come by our shop to discuss what kind of tune up or maintenance options your car or truck might need.